Speak Their Name – online introduction session
Online
Come and join us for an online 1 hour introduction session to the Speak Their Name Project for friends and family bereaved by suicide.
The Yorkshire Speak Their Name Suicide Memorial Quilt Project has been founded by people with a lived experience of bereavement by suicide and supports others bereaved in the same way. The  project has been inspired by the Speak Their Name Greater Manchester (GM) Suicide Memorial Quilt 2020.
Please have a look at this short and inspiring film  https://www.youtube.com/watch?v=9eNCSZ-9kzs
The project vision is to create a Yorkshire Speak Their Name Suicide Memorial Quilt that will create a lasting beautiful memory of loved ones who have died to suicide.
The project aims to promote emotional resilience, connection and hope. This session will be a chance to find out more about this project and whether you would like to get involved. It will be a friendly and understanding environment led by people with a lived experience of bereavement by suicide.
The quilt will be made up of individual 11 x 11 inch cotton squares individually designed by those who have been bereaved by suicide in Yorkshire. Each square will represent the unique memories of the family member or friend who has died and was from or lived in any of the Yorkshire regions. The final quilt once completed will be displayed in Yorkshire on 10th September 2022, International World Suicide Prevention Day.
If you would like this project and want to get involved you can book onto both or either session at Mirfield or Halifax on the 25th and 28th April. Click below for details:
Speak Their Name – in person session – Calderdale and Kirklees
For more information the project email: yorkshirespeaktheirname@gmail.com
Follow on Twitter @Yorkshire_STN and we have a closed Facebook group 'Yorkshire Speak Their Name Quilt Group'
Cost
free
At Online
Start dates and time
| Term | Day | Date | Times | Duration |
| --- | --- | --- | --- | --- |
| Term 2 | Monday | 4 April 2022 | 10.30 - 11.30am | 1 weeks |
How do I enrol?
You are not referred to the Recovery College, you can simply enrol yourself, or on behalf of someone for any of our courses that may be of interest to you. Our courses are open to all adults and we welcome carers, supporters and professionals too.
Resources
Access all our resources for the College here.
A Plan for Living Well (Information session)
|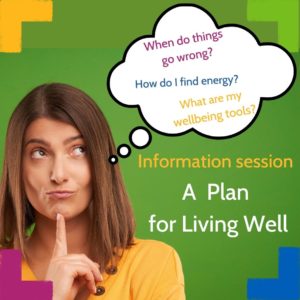 We would love you to meet us and find out more about the "A Plan for Living Well" course. This is an opportunity for you to see if the course...
View course

A Plan for Living Well (Information session)
A plan for living well (wellness planning)
|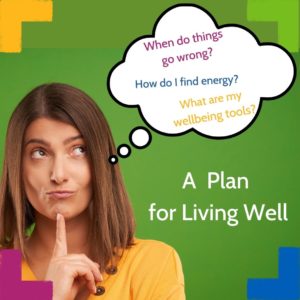 Come and join us in developing your own wellness plan to get back into the driving seat of your life! Meet Gary, Jayne and Tony who co-facilitate this course having...
View course

A plan for living well (wellness planning)