Sarah's Active Surgery
Telephone
Getting more active
I'm Sarah, Peer Project Support Worker for Recovery College, Calderdale. I began to exercise when I was suffering with Anxiety and Depression. Exercising literally saved my life, it gave me something to get up for, something to live for.  I now use exercise as my 'go to' coping strategy.
I am very clumsy and uncoordinated, and I have a physical health problem.  I understand that the thought of getting active can be very scary. I will be running 'Sarah's Active Surgery' on Wednesday and Thursday afternoons. I can provide one-to-one support over the phone to anyone who is interested in getting active. It may be that you've never exercised before or that you've previously exercised and would like to get active again. Whatever the reason, I am here to listen and to help you to find ways to become active that work for you. If you would like to hear more about my story then check out my 'Getting Active' vlog https://www.youtube.com/watch?v=L6lIeL39KgY
If you live in Calderdale and would like to book a session or require more information please get in touch by telephone on 07826 876172 or email Ckrecovery.wellbeing@swyt.nhs.uk
At Telephone
How do I enrol?
You are not referred to the Recovery College, you can simply enrol yourself, or on behalf of someone for any of our courses that may be of interest to you. Our courses are open to all adults and we welcome carers, supporters and professionals too.
Resources
Access all our resources for the College here.
Kayaking Taster Sessions
|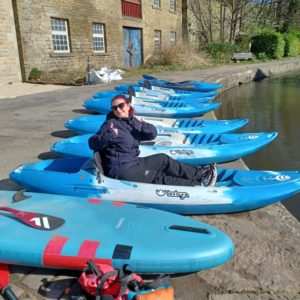 Our partners Blackdog Outdoors are running separate 'one-off' Kayaking Taster Sessions on the Calder & Hebble Navigation Canal, for our Calderdale and Kirklees learners. During the taster session you will...
View course

Kayaking Taster Sessions