Weekly update & suicide prevention day
Welcome to the weekly update! Here you can find information on some up and coming courses as well as some useful and interesting community opportunities.
Please click the link below to view all our courses. We have added even more courses this week!
Today is suicide prevention day
This is a subject we take very seriously in the College and support. Click the link below to read Jo's article about our Wellbeing toolkit course amongst other inspiring articles based on the theme of creating hope through action!
World Suicide Prevention Day 2021: Creating hope through action – NSPA
Take a look at the   Suicide Prevention in West Yorkshire website
which has launched this week. There is support from local organisations across Calderdale and Kirklees for anyone who needs it.
Covid restrictions and guidance at the College
All face-to-face courses will follow a set of procedures following a recent risk assessment which will include social distancing, the wearing of face masks and other hygiene measures. On entry to the building, we will give you a warm welcome, ask a few questions, take your temperature and inform you how to stay safe during the session.
Please read here for further information: Principal Letter – Covid Restrictions
Up and coming courses
BRAND NEW COURSE
Introduction to Mindfulness
Mindfulness is a skill which we can all learn. It involves an ability to become aware of what is happening in the present, moment by moment rather than being on automatic pilot, without worrying and judging. Being mindful provides us with opportunity to respond to difficult events and situations in new ways.
This introductory workshop, delivered in partnership with Spirit in Mind by Pastoral and Spiritual Care's Nirmala, looks at the origins of mindfulness, core practices and its potential to be used to combat stress. Together, we will explore the various tools and techniques used to gain a better understanding of mindfulness and its purpose.
An introduction to Mindfulness – Online
Starts: Thursday 16 September 2-4pm 1 week
Words in Mind
In this six week course we use simple themes from poems, short stories and other forms of the written word to promote general discussion.  There will be the opportunity to get involved and read aloud as your confidence grows and you might even find yourself inspired to write, but there is no pressure to do either of these.  It is okay just to listen and take the opportunity to forget about your cares and worries for a while.  This online course is accessible to everyone, whatever your level of literacy.
This course is open for leaners from Calderdale and Kirklees.
Please note this is an online course only.
Starts: Thursday 16 September 10.30am – 11.45am, 6 weeks
To book a place on a course or to find out more please contact us or visit:
www.calderdalekirkleesrc.nhs.uk/courses/
Other initiatives from local organisations:
Well Connected (North Kirklees)
This project provides a range of activities across Batley, Dewsbury, Cleckheaton, Birstall, Heckmondwike and Mirfield to help you connect with other people and improve your wellbeing.
Find out more: Well Connected North Kirklees
Lead the Way (Calderdale)
This service provides free information and advice about matters relating to learning disabilities. It is now also offering activities for people in Calderdale with learning disabilities and their carers.
Online groups for those with learning disabilities include an active lifestyles group (Wednesday afternoons) and an art group (Thursday afternoons).
There are plans to set up a support group for carers of people with learning disabilities and if you're interested in getting involved you'll be able to help shape plans for the group.
If you would like to attend any of these groups please contact Lead the Way:
Phone: 01924 454875
Email: info@leadthewaycalderdale.org
Growing Works (Kirklees)
There's a wide range of outdoor activities on offer for everyone, including families of children with needs, adults needing support, or those just looking for ways to connect and relax. Sessions include a Young Shoots course aimed at teenagers and based on 'Campfire Cooking' to build confidence and independence, Community Therapeutic Gardening sessions, Mindful Craft evenings and Mindful Music evenings too.
If you would like to attend any of these groups please contact Growing Works:
Phone: 07845 415289
Email: info@growingworks.org.uk
Growing Works website and session details
The Dewsbury: Your Health in Mind project in September.
This month the project will be running various Café Connections sessions across Dewsbury – why not go along, meet some new people, and enjoy some free coffee and cake too! Or join the Jewellery Making Workshop at Thornhill Lees Community Centre on Wednesday 22nd and 29th September and have a go at creating your own jewellery.
The latest Dewsbury: Your Health in Mind Schedule can be downloaded below. Email: contact@s2r.org.uk or call/text 07895 510 433 to book your place on a session.
Find lots more FREE outdoors and wellbeing sessions, creative classes in the September schedule…
Your Health in Mind Schedule (PDF)
Blackdog Outdoors in Kikrlees…
…are doing some local walks for wellbeing of 2-3 hours duration in the Huddersfield area all starting at 10am at:
Dalton 4th & 29th September
Newsome 15th September
Almondbury 18th September
Bookings and info via:  contact@blackdogoutdoors.co.uk
Please don't forget to join in the chatter on Facebook and Instagram:
C & K Recovery & Wellbeing College | Facebook
https://www.instagram.com/ckrecoveryandwellbeingcollege
Stay safe, reach out and have a great weekend
The Recovery & Wellbeing College Team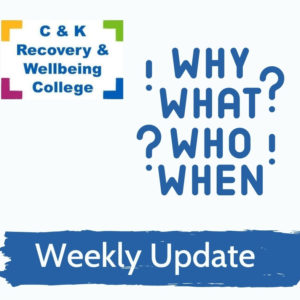 Welcome to the weekly update! Read on to find out about some up and coming courses as well as useful and interesting community opportunities! Please click the link below to...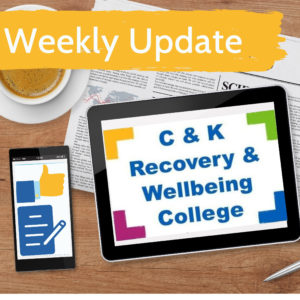 Welcome to the weekly update! Here you can find information on some up and coming courses as well as some useful and interesting community opportunities. Please click the link below...