Keeping Connected and the weekly update
Welcome to Keeping Connected and the weekly update! Please click below to read the latest newsletter – we hope you like the new design!
Read on to find out about our courses and some useful and interesting community opportunities!
Keeping Connected 27 October 2021 (PDF, 3 MB)
C & K Recovery and Wellbeing College courses
We have a few places left on some courses that are due to begin soon, so why not take the plunge and book now to get involved? Please see page 3 in Keeping Connected (link above) to find out more!
Please click the link below to view all our courses and book on asap so you don't miss out!
New course! – Dealing with Stress
Thursday 2nd December 12.30-2.30pm (1 week)
This online workshop will help you develop your knowledge and awareness of stress, how stress affects you and most importantly what you can do to manage it. The session will be facilitated by two friendly psychological wellbeing practitioners and introduce self-help techniques such as relaxation, problem solving and challenging negative thoughts, helping you to learn skills to manage your own symptoms and become your own therapist.
Covid restrictions and guidance at the College
All face-to-face courses will follow a set of procedures to keep you safe from Covid-19 infection. These will include social distancing, the wearing of face masks and other hygiene measures. As always we will give you a warm welcome! and will ask a few questions, take your temperature!
Please read here for further information: Principal Letter – Covid Restrictions
To book a place on a course or to find out more please contact us or visit:
www.calderdalekirkleesrc.nhs.uk/courses/
Other courses from local providers
Adult Community Learning Kirklees
Maths Mates – learn how to support children in local schools with their maths skills, Fieldhead Primary Academy, 4 week course starting 3rd November 9am-12pm OR online, starting 16th November
Mentoring for Health and Wellbeing – online on Zoom, 5 week course starting 12 November 10am-12pm
Reading Friends – learn how to support children in local schools with their reading – various dates and locations
Steps for Success – online on Zoom, 6 week course (with a break for Christmas) starting 30th November 12.30-2.30pm
Dare to Dream – online on Zoom, Fridays 10am-12pm, starting in January 2022
Please note these courses are open to Kirklees residents only.
For more information or to book a place please contact:
Kirklees Success Centre on 01484 234153
email: success.centres@kirklees.gov.uk
Other initiatives from local organisations:
Calderdale Heritage Walks – Skirting the Moor
Why not join in a walking journey through some of the people, buildings and events around Skircoat Moor which have made history in Savile Park?
31st November at 2pm (£4 per person).
Dogs on leads are welcome.
The walk is 2½ hours.
Suitable for powered wheelchairs.
For tickets visit: Calderdale Heritage Walks 2021 Ticketsource
For more details please visit: CHW Summer Walks 2021
Young Dementia Voice – share your experiences and views
If you or a loved one are living with dementia under the age of 65, then Kirklees Dementia Hub would like to invite you to attend a focus group to help shape relevant services in Kirklees.
Thursday 25th November 12.30-3pm at Brian Jackson House in Huddersfield.
Transport can be arranged (both pick up and drop off).
Travel costs for those travelling independently will be
paid back to you.
Refreshments and Food provided.
To book a place and arrange transport, please call: Kirklees Dementia Hub on 01484 411 074
Eat Well, Move More in Dewsbury
Starting Tuesday 2nd November, 10am-12pm
A programme of wellbeing sessions that will focus on eating well and how to incorporate moving more into your daily routine.
The sessions are tailored to support you to meet your personal goals so you will feel better inside and out, develop good habits and have the information and the know-how to keep going with your positive steps to wellbeing.
Sessions will be held at Shaw Cross Rugby Club.
Booking is essential, please email: contact@s2r.org.uk
And finally…
Support is available for ethnic minority carers
A. S. Wellbeing are offering carers from ethnic minorities 3 free support sessions allowing you to offload, have a conversation and learn techniques to help with anxiety, stress, grief, isolation, overwhelm, relationships and other difficulties. These are supportive, safe and confidential one-to-one sessions with a trained practitioner on your phone, on Zoom or in person.
For more information or to book contact Clare: 07984115927
Email contact@aswellbeing.co.uk
Join us on Facebook and Instagram:
C & K Recovery & Wellbeing College | Facebook
https://www.instagram.com/ckrecoveryandwellbeingcollege
Stay safe, reach out and have a great weekend
The Recovery & Wellbeing College Team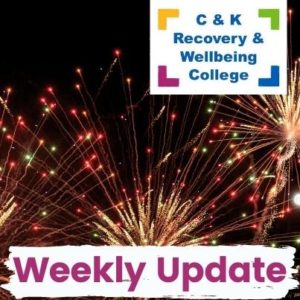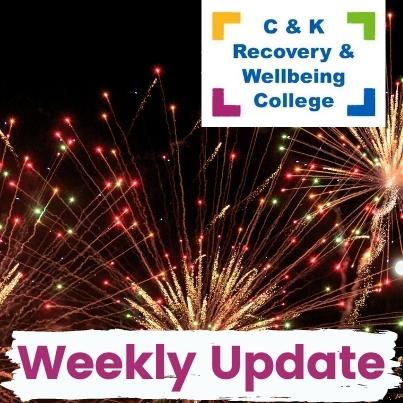 Welcome to the weekly update!  Read on to find out about our courses and some useful and interesting community opportunities! Winter is coming… but so are some new courses soon...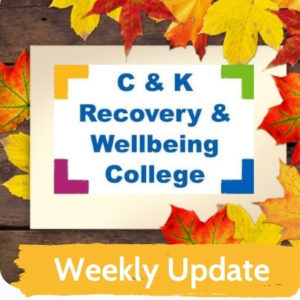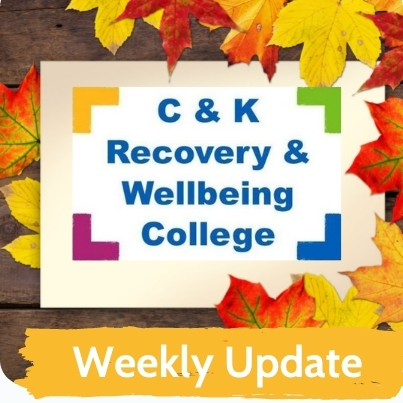 Welcome to the weekly update – with new courses on offer from the College and others! We can't pretend that this winter like last year won't prove to be a...