Weekly update
Welcome to the weekly update! Read on to find out about some up and coming courses as well as useful and interesting community opportunities!
Please click the link below to view all our courses and book on asap not to miss out!
Covid restrictions and guidance at the College
All face-to-face courses will follow a set of procedures to keep you safe from Covid-19 infection. These will include social distancing, the wearing of face masks and other hygiene measures. As always we will give you a warm welcome! and will ask a few questions, take your temperature!
Please read here for further information: Principal Letter – Covid Restrictions
Up and coming courses
The Four Agreements
This 4 week blended learning course is based on a book by Don Miguel Ruiz.  It provides a simple set of ideas to reflect on how you see your interactions with the world around you.  During the course we will reflect on each agreement in depth and share personal thoughts and practical ways to embed them into our everyday lives.  A workbook will be provided and sessions will be held weekly on MS Teams.
Starts: Tues 5 October 10.30 – 11.45am  4 weeks
Get Animated
Learn the art of visual storytelling through engaging, practical demonstrations and discussions. Over 8 weeks we will look at animation styles, character design and explore visual communication. The course aims to introduce you to different animation styles and techniques with a blended approach to both delivery of the content and reference material. Providing you with a foundation of creative skills to expand your personal art language underpins each session. This course is delivered on MS Teams however the final session will be face to face at our Mirfield Recovery and Wellbeing College.
Starts: Weds 6 October 11am-1pm 8 weeks
Last chance to book on to:
Understanding Anxiety
Would you like to know more about anxiety? During this workshop you will discover what anxiety is and its associated signs and symptoms. We will discuss issues surrounding the impact of this upon daily living and share strategies to manage anxiety.
Starts: Weds 22 September 10am-1pm 1 week online
To book a place on a course or to find out more please contact us or visit:
www.calderdalekirkleesrc.nhs.uk/courses/
Other courses from local providers
Rhythm Stick
After the success of our "Drumming for Wellbeing" sessions we are running a 3 week course, Introduction to Samba Percussion. This  provides an introduction to the different instruments used in a Brazilian Samba Band as well as techniques and tips. Led by experienced percussionist and band leader Katie Mallard. Suitable for adults of any age, absolutely no experience needed.
This is £4 a week or £3 for those who would struggle to afford £4.
Wednesdays 10am, 22nd September – 6th October at Holmfirth Tech.
Or Thursdays 10am, 23rd September – 7th October at Denby Dale Methodist
For more information contact:
Katie Mallard 07736 049089
Dare to Dream – with the Success Centre (on zoom!)
This is an opportunity to review and reflect on your future plans. Whether you're considering employment, changing jobs, self-employment, volunteering, study or a combination this course will give you the opportunity to develop some goals and an action plan.
Email: success.centres@kirklees.gov.uk  to be contacted by the tutor.
Enrol online here with the course code FL2122001
Intranet homepage – Home (kirklees.gov.uk)
And you will be sent a welcome pack from your tutor to get you ready for your
Starts Friday 01 October until 29 October 10am-12pm
Richmond Fellowship
Assertive Communication on zoom – 14th October 1-4pm
Stress Management – 25 October 1-3pm
Volunteer training taster workshop – 4th November (2 weeks) 1-3pm
Self Esteem – 15th November 1-3pm
Coming out of lockdown on zoom – 18th November 1-3pm
Ways to wellbeing 29 November 1-3pm
Mood and Food 9 December 1-3pm
For more information or to book a place please contact:
Karl Jackson-Lander on 07909 993203
email: Karl.Jackson-Lander@richmondfellowship.org.uk
Other initiatives from local organisations:
 Artworks Heritage Open Day event
Take the opportunity to visit our unique venue, a grade II listed textile mill in Halifax, and find out more about Artworks, The Everybody School of Art. Here you will find our art school with extensive creative production facilities and equipment, our gallery where creative practices and processes are shared and showcased, and our artist studios, where 20 artists and creative practitioners make their work.
Sat 18th Sept 10am-4pm
Artworks Peer Support group
Artworks for Health and Wellbeing Peer Support Group is for people using Art to support their mental health and wellbeing.
It is a dedicated peer – led studio space on the ground floor of Artworks for connection, community, recovery, inclusion and creative expression. A place to feel at home, spend time with others and be creative.
health-wellbeing-peer-support-group
Starting again from Wed 22nd Sept 1-3pm
The Dewsbury: Your Health in Mind project in September.
This month the project will be running various Café Connections sessions across Dewsbury – why not go along, meet some new people, and enjoy some free coffee and cake too! Or join the Jewellery Making Workshop at Thornhill Lees Community Centre on Wednesday 22nd and 29th September and have a go at creating your own jewellery.
The latest Dewsbury: Your Health in Mind Schedule can be downloaded below. Email: contact@s2r.org.uk or call/text 07895 510 433 to book your place on a session.
Find lots more FREE outdoors and wellbeing sessions, creative classes in the September schedule…
Your Health in Mind Schedule (PDF)
 And finally…
Looking to do something this weekend. Why not have a look around some local heritage buildings including Clock Towers, Mills, Museums and Churches. Enjoy!
https://www.heritageopendays.org.uk
Join us on Facebook and Instagram:
C & K Recovery & Wellbeing College | Facebook
https://www.instagram.com/ckrecoveryandwellbeingcollege
Stay safe, reach out and have a great weekend
The Recovery & Wellbeing College Team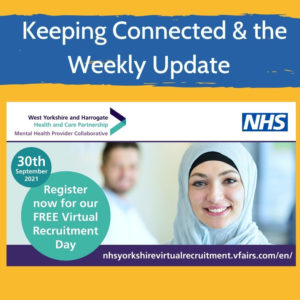 Welcome to keeping Connected and the weekly update! Read on to find out about some up and coming courses as well as useful and interesting community opportunities! Keeping-Connected-24-September-2021.pdf Please...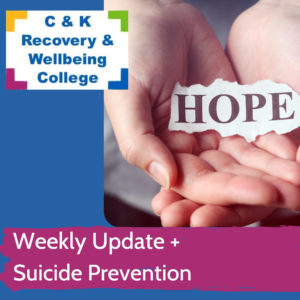 Welcome to the weekly update! Here you can find information on some up and coming courses as well as some useful and interesting community opportunities. Please click the link below...