Weekly update
Welcome to the weekly update – with new courses on offer from the College and others!
We can't pretend that this winter like last year won't prove to be a tough one! Rising prices, shortages, cuts in benefits and the uncertainty of what will happen with the Covid pandemic will take it's toil on all our emotional resilience. We are working hard as  a college to think about what we can do with new courses being planned over the winter season, alongside some other ideas! So watch this space as we begin to reveal our plans to help you through this season.
View all courses available here
Weaving for Wellbeing – last few space left!
Starts: Tuesday 9 November 1.00-2.30pm (6weeks)
In this 6-week course you will start a wellbeing journey, exploring yourself and how you engage with the world. You will explore this theme using the creative art of weaving. Each session will have a mix of activities, inspiration, media as well as the opportunity to produce your own woven piece. You will explore texture, colour, words, fabrics, and materials. By the end of the course, you will have produced a unique final woven piece. This face-to-face course will be based at Artworks, Halifax.
Quiet the Mind: The practice of meditation
Starts: Monday 1 November 1.30-3pm online and workbook (4 weeks)
Are you always on the go; continually having somewhere to be and something to do?  Do you struggle to switch off and give your brain a well deserved break?  If so, this is the course for you.  This interesting introduction to meditation, over 4 weeks, teaches you some of the history and facts about meditation, the reasons to meditate and how this practice can help us live in the present moment and experience comfort and stillness.  You will learn how to meditate using a variety of techniques, and as a group will discuss "The Power of Now".
Quiet the Mind: The Practice of Meditation
Understanding Dementia
Thursday 2 November at 10.30am (face to face at the RWC in Kirklees)
OR
Monday 15 November at 10.30am (online)
Are you concerned about your memory or that of a loved one? Have you or someone you know been recently diagnosed with Dementia? Do you work or volunteer with people who experience memory issues? If you answered yes to any of these questions or if you would just like to find out more about Dementia then this is the course for you. This one-off workshop delivered by Kirklees Dementia Hub will provide you with information about symptoms, the progression of Dementia, how to access support and be able to answer some of your questions relating to this diagnosis.
Online Yoga
Starts: Thursday 4th November 10.15-11.30am (4 weeks online)
Science has shown that a regular yoga practice can help produce feelings of calm and relaxation. It can help us in managing our mental health and physical health. We are excited that the Recovery and Wellbeing College can offer learners a 4 week online Yoga course with experienced Yogi Carla Daly.
Drawing for Wellbeing -Mandalas
Starts: Wednesday 10 November 1.00pm-2.30pm (6 weeks)
This blended learning course is suited to both beginners and those with more experience. The course will be delivered in a relaxed, creative environment. As a learner you will have the option to work both individually using the printed workbook and supplied art materials as well as interacting with a group via weekly MS Teams meetings.
The first half of this course will give you the opportunity to develop your drawing skills through a series of 3 creative mark-making activities. In the second part of this course you will focus on transferring the three mark-making skills into a collection of mandala designs. You will get the opportunity to combine drawing skills with a design element that is centered around the relaxing qualities of repetitive processes and mandalas
Drawing for Wellbeing – Mandalas
To book a place on a course or to find out more please contact us or visit:
www.calderdalekirkleesrc.nhs.uk/courses/
Community courses and events
Mentoring for health and wellbeing
Do you want to be able to support others as part of your job role and/or volunteering?
Do you want to develop your communication skills?
Do you want to know how to set goals and know when these have been achieved?
Are you aged 19+?
Then consider becoming a mentor!
This 5 week practical course aims to provide you with the skills, knowledge and confidence to be an
effective mentor.
Course dates: Friday 12 November – 10 December (5 weeks)
To register follow the link using course code: FL2122014
Kirklees_Council_Learner_Enrolment_Form_2021_2022
For further details contact:
Jane Walton (Tutor) on 07791021992 or email jane@janewalton.org.uk
Richmond Fellowship
Stress Management – 25 October 1-3pm
Volunteer training taster workshop – 4th November (2 weeks) 1-3pm
Self Esteem – 15th November 1-3pm
Coming out of lockdown on zoom – 18th November 1-3pm
For more information or to book a place please contact:
Karl Jackson-Lander on 07909 993203
email: Karl.Jackson-Lander@richmondfellowship.org.uk
#ImSpartacus online campaign launch
Suicide is the biggest killer of men under 50 in the UK yet talking about mental health remains problematic for many. Supported by Creative Minds, Men's Talk and Anti Stigma Kirklees have come together to help address the problem, with the launch of #ImSpartacus.
Kirklees Together – Black history month events
Visit their website for more information on the events taking place throughout October. If you'd like to learn more about how Creative Minds is working with BAME communities in South Kirklees contact alex.feather1@swyt.nhs.uk.
Be part of the conversation, your voice is needed
The GLAD Study aims to better understand depression and anxiety in order to find effective treatments and improve the lives of people experiencing these disorders. If you would like to find out more about the study and how to join please visit –
And finally….
Carers Rights Day – Thursday 25th November
If you care for a family member or friend, it is important that you understand your rights and are able to access the appropriate support as soon as you need it.
Carers Count works alongside other local and national organisations to help:
ensure carers are aware of their rights
let carers know where to get help and support
raise awareness of the needs of carers
You can also join a free online event for all carers with a host of guest speakers on 25th November
Find out more here from our friends at Carers Count:
Carers' Rights (carerscount.org.uk)
Join us on Facebook and Instagram:
C & K Recovery & Wellbeing College | Facebook
https://www.instagram.com/ckrecoveryandwellbeingcollege
 Stay safe, reach out and have a great weekend
The Recovery & Wellbeing College Team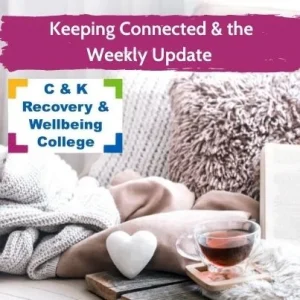 Welcome to Keeping Connected and the weekly update! Please click below to read the latest newsletter – we hope you like the new design! Read on to find out about...
Welcome to the weekly update – with some brand new courses on offer from the College! Monday 18th October is World Menopause Day Hot flushes, sleepless nights, anxiety, weight gain,...