Weekly update
Welcome to the weekly update!  Read on to find out about our courses and some useful and interesting community opportunities!
Winter is coming… but so are some new courses soon that will help you through those cold dark days! Keep your eyes out for the weekly updates as we start to unravel our plans and new courses to help you not just survive but thrive this winter!
We hope whatever plans this weekend you have you stay safe and enjoy the bonfire and Diwali celebrations!
C & K Recovery and Wellbeing College courses
Please click the link below to view all our courses and book on asap so you don't miss out!
Dealing with Stress
Thursday 2 December 12.30-2.30pm (1 week)
This online workshop will help you develop your knowledge and awareness of stress, how stress affects you and most importantly what you can do to manage it. The session will be facilitated by two friendly psychological wellbeing practitioners and introduce self-help techniques such as relaxation, problem solving and challenging negative thoughts, helping you to learn skills to manage your own symptoms and become your own therapist.
Understanding Dementia – Online
Monday 15 November 10.30am-12.30pm (1 week)
Are you concerned about your memory or that of a loved one?  Have you or someone you know been recently diagnosed with Dementia?  Do you work or volunteer with people who experience memory issues?  If you answered yes to any of these questions or if you would just like to find out more about Dementia then this is the course for you.  This one-off workshop delivered by Kirklees Dementia Hub will provide you with information about symptoms, the progression of Dementia, how to access support and be able to answer some of your questions relating to this diagnosis.
Understanding Dementia – Online
Autism Awareness
Thursday 25 November 1-3pm (1 week)
This one-off workshop will provide an introduction to Autism.  The course will promote an understanding of the characteristics of Autism and the various ways that it may affect an individual.  It will explore myths surrounding this and what to do if you suspect Autism in yourself or someone else.  It will provide an overview of the strategies that may help those with Autism or those supporting them.  You will also receive information on local and national support networks and where to access further help.
Covid restrictions and guidance at the College
All face-to-face courses will follow a set of procedures to keep you safe from Covid-19 infection. These will include social distancing, the wearing of face masks and other hygiene measures. As always we will give you a warm welcome! and will ask a few questions, take your temperature!
Please read here for further information: Principal Letter – Covid Restrictions
To book a place on a course or to find out more please contact us or visit:
www.calderdalekirkleesrc.nhs.uk/courses/
Other courses from local providers
Adult Community Learning Kirklees
Maths Mates – learn how to support children in local schools with their maths skills, Fieldhead Primary Academy, 4 week course online, starting 16th November
Mentoring for Health and Wellbeing – online on Zoom, 5 week course starting 12 November 10am-12pm
Reading Friends – learn how to support children in local schools with their reading – various dates and locations
Steps for Success – online on Zoom, 6 week course (with a break for Christmas) starting 30th November 12.30-2.30pm
Dare to Dream – online on Zoom, Fridays 10am-12pm, starting in January 2022
Please note these courses are open to Kirklees residents only.
For more information or to book a place please contact:
Kirklees Success Centre on 01484 234153
email: success.centres@kirklees.gov.uk
Other initiatives from local organisations:
Calderdale Heritage Walks – Skirting the Moor
Why not join in a walking journey through some of the people, buildings and events around Skircoat Moor which have made history in Savile Park?
31st November at 2pm (£4 per person).
Dogs on leads are welcome.
The walk is 2½ hours.
Suitable for powered wheelchairs.
For tickets visit: Calderdale Heritage Walks 2021 Ticketsource
Drop in & Do – Arts and Craft Club
Tuesdays 9.30-11am from now until 7th December
Pop in and have a go! Learn new skills and make unique gifts and useful household items
Howden Clough Community Centre Leeds Rd Birstall, WF17 OHY
Booking recommended by calling 07516119980
Young Dementia Voice – share your experiences and views
If you or a loved one are living with dementia under the age of 65, then Kirklees Dementia Hub would like to invite you to attend a focus group to help shape relevant services in Kirklees.
Thursday 25th November 12.30-3pm at Brian Jackson House in Huddersfield.
Transport can be arranged (both pick up and drop off).
Travel costs for those travelling independently will be
paid back to you.
Refreshments and Food provided.
To book a place and arrange transport, please call: Kirklees Dementia Hub on 01484 411 074
Support is available for ethnic minority carers
A. S. Wellbeing are offering carers from ethnic minorities 3 free support sessions allowing you to offload, have a conversation and learn techniques to help with anxiety, stress, grief, isolation, overwhelm, relationships and other difficulties. These are supportive, safe and confidential one-to-one sessions with a trained practitioner on your phone, on Zoom or in person.
For more information or to book contact Clare: 07984115927
Email contact@aswellbeing.co.uk
Dewsbury: Your Health in Mind S2R/Create Space
This month we will be running some brand-new Wednesday Wanderers sessions in Earlsheaton Park, and some women-only Friday Wanderers sessions in Crow Nest Park. We will also be teaching skills like shelter building, foraging and compass reading in our new Outdoor Skills and Nature Confidence sessions at Boothroyd Academy. Or why not join us for a workshop on Beginners Embroidery on Tuesday 9th November or Invisible Mending on Tuesday 30th November and learn some basic embroidery techniques or how to turn repairing and patching clothing into an art form!
Take a look at our latest Dewsbury: Your Health in Mind Schedule below and email: contact@s2r.org.uk or call/text 07895 510 433 to book your place on a session
And finally for anyone who is a carer…
Carers Rights Day 25th November – with Carers Count
We feel it's important to prepare carers with the information you need in case of an emergency, you may become ill, feeling you can't cope or you feel you're getting older so what's the future look like for you and the person you care for.
Planning for the unexpected, the WHAT IF is extremely important and gives everyone the reassurance of what happens next at usually a very difficult and stressful time.
For more info click here
Carers Rights Day Thursday 25th November 13:00 – 14:30 Tickets
Join us on Facebook and Instagram:
C & K Recovery & Wellbeing College | Facebook
https://www.instagram.com/ckrecoveryandwellbeingcollege
Stay safe, reach out and have a great weekend
The Recovery & Wellbeing College Team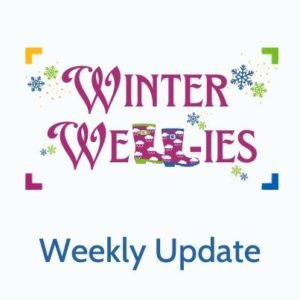 Welcome to the weekly update and the launch of winter well-ies! Winter is here,  we have a collection of courses, workshops, along with articles and ideas to help you not...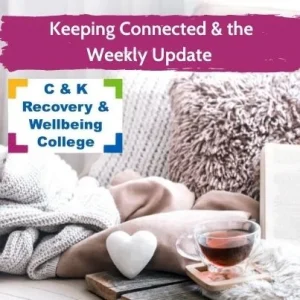 Welcome to Keeping Connected and the weekly update! Please click below to read the latest newsletter – we hope you like the new design! Read on to find out about...