Keeping Connected and the Weekly Update
Welcome to the Easter edition of Keeping Connected and the weekly update. Here you can find out what is on offer from our College and other community organisations as well as some other useful information and inspiring articles!
Keeping-Connected-2-April-2021.pdf
At last the restrictions have begun to ease and whilst many of us will feel positive about this I am sure there will be a sense of anxiety too. I certainly feel that way. The thought of getting back to "normal life" is both positive and challenging. "It is OK not to be OK", is a phrase we use in our college and one I want to remind you about. If you do feel anxious, worried and stressed that is normal. There will be an increase in expectations and demands of our time as we start to return to our more normal lives.
My hope is that we can keep some of what we have learnt throughout the pandemic. Part of that has been the way people have been more willing to engage in conversations – my window cleaner being one. He is always very genuine when he asks me how I am. Whilst we may have been physically distanced from others that does not necessarily translate as being socially distant. Please take the time to check in with others and allow them to do the same with you. Stay safe, reach out and read on.
Matt Ellis, Principal
For all available courses
Up and coming courses
BRAND NEW COURSE!
Mental Wellbeing & Creative Arts
The creative arts are often overlooked at having a higher than average incidence of poor mental wellbeing, with practitioners at a significantly higher risk of poor mental health than most other professions. This online course addresses this through looking at identity, our sense of self-worth and validation, the importance of connection and supportive networks and our sense of purpose. It also looks at burnout, anxiety and depression and suggests measures to support a healthy mental wellbeing with mindfulness as part of that.
This is a progression course to help the participants connect with, recognise and develop a dialogue with their creative inner child, develop healthier connections with self and others and nurture a greater awareness of what it means and requires to develop good mental wellbeing. This course is suitable for anyone who uses creative arts for their positive wellbeing.
 Starts: Wednesday 12 May 10:30am – 12:30pm for 8 weeks
Mental Wellbeing & Creative Arts | Calderdale and Kirklees Recovery College (calderdalekirkleesrc.nhs.uk)
Yoga
Research has shown that a regular yoga practice can help produce feelings of calm and relaxation. It can help us in managing our mental and physical health.
We are excited that the Recovery and Wellbeing College can offer a 4-week online Yoga course with experienced Yogi Carla Daly.
The session will include meditation, breathing practice and a physical movement. These can be done either sitting on the floor or a chair, standing and lying on a mat. We appreciate it can be a little scary trying something new or unfamiliar. Carla will have this in mind throughout the course. You will be left leaving each session, relaxed and refreshed in mind, body and soul!
Starts: Thursday 22 April 10:15 – 11:30am for 4 weeks
Mindfulness…
…is a life skill we can all learn. It involves the ability to become aware of what is happening in the present moment, rather than
being on automatic pilot, without worrying or judging. Being mindful provides us with the opportunity to respond to difficult events and situations in new ways. This 8 week online course using MS Teams, looks at the origins of mindfulness, core practices and its potential to be used to combat stress. Together, we will explore the various tools and techniques used, to gain a better understanding of mindfulness and
its purpose.
This course is open for all Calderdale and Kirklees learners.
Starts: Tuesday 13 April 11am-12pm for 8 weeks
Quiet the Mind: The Practice of Meditation
Are you always on the go; continually having somewhere to be and something to do? Do you struggle to switch off and give your brain a well deserved break? If so, this might be the course for you. This interesting introduction to meditation will, over four consecutive weeks, teach you some of the history and facts about meditation, the reasons to meditate and how this practice can help us to live in the present moment and experience comfort and stillness. You will learn how to meditate using a variety of techniques and as a group will discuss "The Power Of Now".
You will receive a printed workbook, accompanying reading around Meditation practice and access to the weekly MS Teams meeting.
Starts: Tuesday 4 May 1.30-3pm for 4 weeks
Quiet the Mind: The Practice of Meditation
To book a place or to find out more about other courses visit: www.calderdalekirkleesrc.nhs.uk/courses/
Course from other organisations:
Colouricity – Exploring Words and Colour
Free online workshop delivered in partnership with Kirklees Libraries and Colouricity. Within this workshop we will explore the relationship between words, colour and our emotional responses to them .
To book a place:
Email: kath@colouricity.co.uk
 Online zoom session
Starts Wednesday 21 April 11am-12.30pm
Find out more about colouricity here: https://colouricity.co.uk/
 Dare to Dream
As we move towards coming out of lockdown this is an opportunity to review and reflect on your plans for the future. Whether you're considering employment, changing jobs, self-employment, volunteering, study or a combination this course will give you the opportunity to develop some goals and an action plan.
Want more information before you commit?
Email helen.kerr@kirklees.gov.uk
Otherwise enrol online here:
https://my.kirklees.gov.uk/service/Schools_and_education___Kirklees_Council_Learner_Enrolment_Form_2020_2021
with the course code FL2021020:
Starts: Friday 30 April 10am-12pm for 5 weeks
Upcoming courses from Richmond Fellowship
Request more information and self-refer here:
https://www.richmondfellowship.org.uk/yorkshire/kirklees-employment-service/
Stress Management – April
Mood and Food -April
Confidence to Work – May
Volunteer Training Taster – June
Assertiveness and Communication – June
Good Footing: Step Forward
1-2-1 Wellbeing Walks now available in the Colne Valley
If you're struggling with isolation, your mental health or just need to get moving more?
Why not sign up to Good Footing's 6 week walking for wellbeing programme
Click here for more details:
https://www.goodfooting.co.uk/
M.E.N. Move Enjoy Network
M.E.N. (Move Enjoy Network) are now in a position to take referrals for their new men's mental health walking groups for men in North Kirklees.  They have 6 people per group and can take referrals. Sessions will be within the Batley Bulldogs Stadium.  The first group will start Thursday 1st April around 10.30am, for men aged 30+ who want to take some steps towards improving their wellbeing. Please share this with anyone who is working with people who might benefit.
BULLDOGS COMMUNITY TEAM – Batley Bulldogs
Please don't forget to join in the chatter on Facebook and Instagram:
C & K Recovery & Wellbeing College | Facebook
https://www.instagram.com/ckrecoveryandwellbeingcollege
Stay safe, reach out and have a great Easter
The Recovery & Wellbeing College Team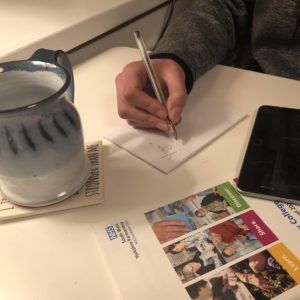 Welcome to the weekly update. Here you can find out what is on offer from our College and other community organisations as well as some other useful information and offers...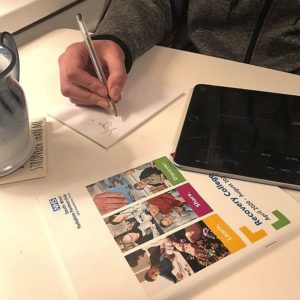 Welcome to the weekly update. Here you can find out what is on offer from our College and other community organisations as well as some other useful information and inspiring...