Weekly update
Welcome to the first weekly update of 2022! We hope you have had a good festive break and wish you the very best for the new year.
It seems that 2022 is already proving a challenge with an increase in covid infections and disruption to our lives.
Unfortunately we are having to adapt and change our plans at the College in the short term. We have pushed back some face to face courses until at least the week commencing 24th January and some with have put online. If you have booked onto any of our planned face to face courses we will contact you directly. Please keep yourself in the loop by reading the weekly update next week.
You can find out more by reading the Principals letter here
We will get through this and we are hopeful to get back to normal before too long!
Meanwhile please stay connected and engaged with us on  Facebook, Instagram and Twitter
C & K Recovery and Wellbeing College courses
Click below and have a browse at our full collection of Winter Well-ies courses to help you through the winter months:
Courses starting soon…
Splash of colour
Wednesday 19 January 1-3pm (1week)
Greet 2022 with a Splash of Colour by joining us for a one-off creative workshop featuring the humble welly boot! Learn upcycling and repurposing techniques, get inventive with embellishments and paint on this unusual canvas. This online workshop is a relaxed, project-focused format that will hopefully inspire lots of other ways to use the ideas and tips covered – sign up with a friend, things are better in pairs…
Autism Awareness
Monday 17 January 1-3pm 1 weeks online
PLEASE NOTE: This course has been moved to online
This one-off workshop will provide an introduction to Autism.  The course will promote an understanding of the characteristics of Autism and the various ways that it may affect an individual.  It will explore myths surrounding this and what to do if you suspect Autism in yourself or someone else.  It will provide an overview of the strategies that may help those with Autism or those supporting them.  You will also receive information on local and national support networks and where to access further help.
Mindfulness
Tuesday 18 January 11am-12pm (8 weeks)
Mindfulness is a life skill we can all learn. It involves the ability to become aware of what is happening in the present moment, rather than
being on automatic pilot, without worrying or judging. Being mindful provides us with the opportunity to respond to difficult events and situations in new ways. This 8 week online course using MS Teams, looks at the origins of mindfulness, core practices and its potential to be used to combat stress. Together, we will explore the various tools and techniques used, to gain a better understanding of mindfulness and
its purpose.
BRAND NEW…
Lifting your spirits: Enhancing inner strength & wellbeing
Thursday 27 January 2-4pm (2 weeks)
The course, offered in conjunction with Spirit in Mind, aims to provide participants with the opportunity to explore, experience and develop 7 spiritual tools (meditation, visualisation, appreciation, listening, play, creativity, and reflection) to enhance their inner strength and wellbeing, in a safe and relaxed setting by a trained and experienced tutor. You will be able to learn how to access inner resources that can sustain you through difficult and challenging times.
Lifting your spirits: Enhancing inner strength & wellbeing – online
To book a place on a course or to find out more please contact us or visit:
www.calderdalekirkleesrc.nhs.uk/courses/
Other initiatives from local organisations:
Dewsbury: Your Health in Mind (S2R/Create Space)
This month we'll be running a natural products Aromatherapy course at the Taleem Centre, and some Mindful Social Stitching sessions at Boothroyd Academy. If you fancy getting outside for a breath of fresh air, why not join in with our Wednesday Wanders and have a gentle stroll around beautiful Earlsheaton Park. Or why not join our brand new six-week Sewing Machine Course from 12:30 – 2:30pm on Wednesdays at Boothroyd Academy and learn how to make yourself a handy zipped pouch and a useful tote bag!
Take a look at our latest Dewsbury: Your Health in Mind Schedule below and email: contact@s2r.org.uk or call/text 07895 510 433 to book your place on a session
Richmond Fellowship – Stress Management online course
Stress Management workshop
Monday the 10th January (2 weeks)
Confidence to work workshop
Thursday the 13th January (6 weeks)
For more information or to book a place please contact:
Karl Jackson-Lander on 07909 993203
or email: Karl.Jackson-Lander@richmondfellowship.org.uk
Free Drumming for Wellbeing Courses funded by Central England Co-operative.
 Holmfirth – Wednesdays 10-11.30am
19th & 26th January,  23rd & 30th March
Denby Dale – Thursdays 10-11.30am
20th & 27th January,  24th & 31st March
Did you know that group drumming reduces stress, strengthens the immune system and boosts fitness?
These two hands-on courses teach participants the benefits of playing percussion together. Learn to play the different percussion instruments as a group supported by members of the Samba Band. This friendly class is run by professional Community Percussionist Katie Mallard. Suitable for all adults.
BOOKING ESSENTIAL:
Visit: www.rhythmstick.co.uk/book-a-course
or contact Katie 07736 049089
www.facebook.com/valleybeatsdrumming
www.instagram.com/rhythm_stick
Dementia Support Group – for young onset Dementia
A service aimed at working age or younger people living with dementia.
Developing skills and hobbies; Getting out and about; Advice and support
Weekly meetings: Thurs 1-3pm
Brian Jackson Centre House, Huddersfield HD1 5JP 
For more info:
Tel: 01484 415465
email: communityconnections@yccuk.org.uk
Join us on Facebook and Instagram:
C & K Recovery & Wellbeing College | Facebook
https://www.instagram.com/ckrecoveryandwellbeingcollege
 Stay safe, reach out and happy new year
The Recovery & Wellbeing College Team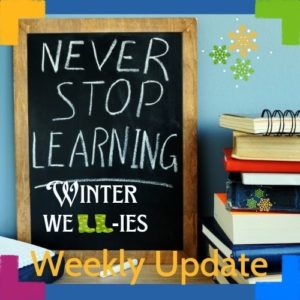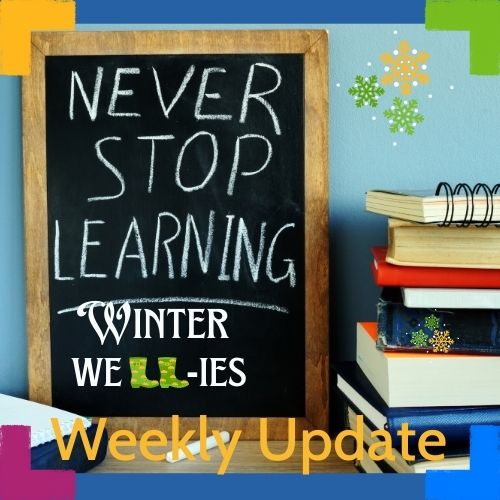 Welcome to the weekly update. We are as popular as ever with courses booking up fast, so you ll have to be quick to book on. There is some information...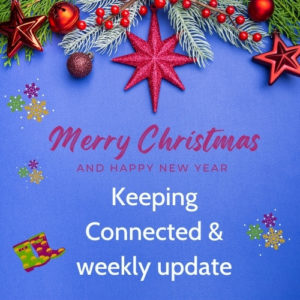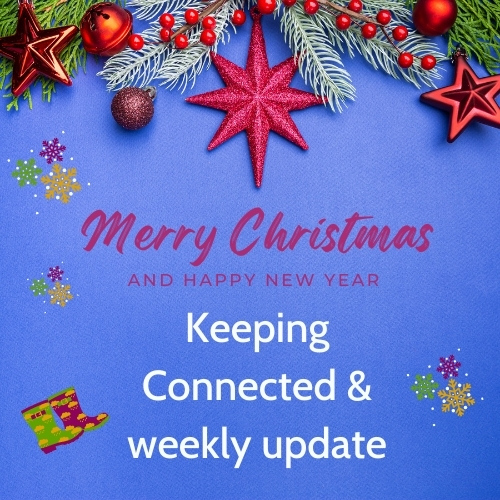 Welcome to the Christmas edition of Keeping Connected and the weekly update. What ever you are doing we wish you a merry Christmas! from all the team at the Recovery...