The Weekly update
Welcome to the weekly update! Read on to find out about up and coming courses and community opportunities.
Please click the link below to view all our courses
Steering Group at the College
What makes our college different is that we work with people with a lived experience of mental health or related health issues alongside professionals. We plan courses together and co-deliver them. We also involve our volunteers in much of the decisions and day-to-day running of the college. We call this co-production.
To ensure we continue to develop and grow our College in the right way alongside people with a lived experience, we are setting up a Steering Group for the College.
The Steering Group will be a source of support and guidance, developing the College within both Calderdale and Kirklees localities.
We will have representation from learners and volunteers on the Steering group.
If you would like to know more and express an interest in joining the Steering Group please contact the college at ckrecovery.wellbeing@swyt.nhs.uk or call us on 07717 867911
For more info on what co-production is and how it works in our college click the link below:
Co-production in Calderdale and Kirklees Recovery and Wellbeing College
Watch this space for more conversations and thoughts on Co-production and the Steering Group
Up and coming courses
Tree Walk
Join the friends of Crow Nest Park in Dewsbury for this one-off guided tree walk. Stretch your legs and
breathe among the autumnal trees and leaves. Enjoy natures beautiful array of colours and learn about
the different varieties of trees in this gem of a park. Please note this walk will be on surfaced paths and
could be undertaken by someone in a wheelchair or mobility scooter.
Tree Walk – Crow Nest Park Dewsbury
Starts: Thursday 14 October at 10.30am
Understanding Dementia
Are you concerned about your memory or that of a loved one? Have you or someone you know been
recently diagnosed with Dementia? Do you work or volunteer with people who experience memory
issues? If you answered yes to any of these questions or if you would just like to find out more about
Dementia then this is the course for you. This one-off workshop delivered by Kirklees Dementia Hub will
provide you with information about symptoms, the progression of Dementia, how to access support and
be able to answer some of your questions relating to this diagnosis.
Starts: Thursday 2 November at 10.30am (face to face at the RWC in Kirklees)
OR
Starts: Monday 15 November at 10.30am (online)
To book a place on a course or to find out more please contact us or visit:
www.calderdalekirkleesrc.nhs.uk/courses/
Other courses from local providers
Richmond Fellowship
Assertive Communication on zoom – 14th October 1-4pm
Stress Management – 25 October 1-3pm
Volunteer training taster workshop – 4th November (2 weeks) 1-3pm
Self Esteem – 15th November 1-3pm
Coming out of lockdown on zoom – 18th November 1-3pm
Ways to wellbeing 29 November 1-3pm
Mood and Food 9 December 1-3pm
For more information or to book a place please contact:
Karl Jackson-Lander on 07909 993203
email: Karl.Jackson-Lander@richmondfellowship.org.uk
Other initiatives from local organisations:
Artworks Peer Support group
Artworks for Health and Wellbeing Peer Support Group is for people using Art to support their mental health and wellbeing.
It is a dedicated peer – led studio space on the ground floor of Artworks for connection, community, recovery, inclusion and creative expression. A place to feel at home, spend time with others and be creative.
health-wellbeing-peer-support-group
Starting again from Wed 22nd Sept 1-3pm
Calderdale Heritage Walks
Explore the gorgeous scenery of various places of interest in Calderdale while enjoying some gentle exercise. Chat with your fellow walkers, take in the autumn air and perhaps take a photo or two – check out the link for details on the routes coming up and how to book. (link to be added via calderdale council leisure section)
Calderdale Heritage Walks 2021
 And finally…
The Dewsbury: Your Health in Mind Project is here for you:
Bringing together a Dewsbury-wide project, for you and your community, aimed at supporting emotional health and wellbeing. We will be linking up supportive services, organisations and groups that help provide opportunities to engage with healthier outlooks and wellbeing, build confidence and reduce feelings of isolation.
This month we'll be running some more of our popular Café Connections across Dewsbury so come along, meet some new people, and enjoy some free coffee and cake too! Or why not join us for a Mindful Autumn Walk at Earlsheaton Park on Wednesday 20th October and take in the sights, sounds and feelings of the beautiful autumnal surroundings.
For more info: Dewsbury: Your Health in Mind | S2R Create Space
email: contact@s2r.org.uk or call/text 07895 510 433 to book your place on a session.
Join us on Facebook and Instagram:
C & K Recovery & Wellbeing College | Facebook
https://www.instagram.com/ckrecoveryandwellbeingcollege
 Stay safe and dry, reach out and have a great weekend
The Recovery & Wellbeing College Team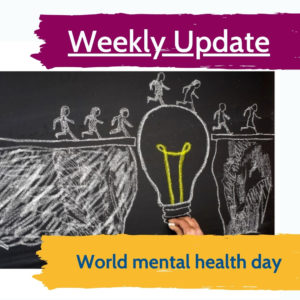 Welcome to the weekly update! Read on to find out about up and coming courses and community opportunities. Please click the link below to view all our courses View all...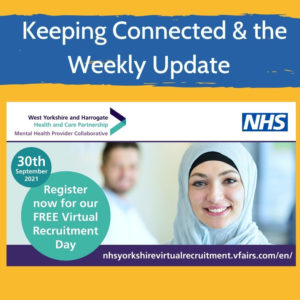 Welcome to keeping Connected and the weekly update! Read on to find out about some up and coming courses as well as useful and interesting community opportunities! Keeping-Connected-24-September-2021.pdf Please...