The Weekly Update
Welcome to the weekly update. Our college is more than the buildings we occupy. The college is made of people like you, like us, who support each other, learning together in how to manage the challenges of life. Listen to Daniel and his story of recovery and hope and how the college has helped him..
"It's nice to be able to have the opportunity to do this and share my  experience of the Recovery College and what impact  it's had on my life because it's literally changed  the direction of my life and how I view myself and feel about myself…I'm very grateful for it and I'd just like to share my experiences. " Daniel
You can listen to a podcast with Daniel in a conversation with our Principal (Matt)) here:
In case you missed it last week do read our newsletter here:
We are a bit short handed at the moment
Please bear with us over the next few weeks. We are currently suffering from a shortage of admin workers! We'll do our best to respond to any booking requests and enquires but we may be a little delayed in doing so!
You can help by:
not enrolling again with us if you have attended a course in the last 2 years – just email or call to book onto a course
attending courses you have booked onto
getting in touch if you can't attend a session in advance
keeping us informed of any changes in your contact details and provide the correct email address
emailing us where possible ckrecovery.wellbeing@swyt.nhs.uk
calling our main mobile number only on:  07717867911
If you can help us we can help you even more!
Please check before you travel!
Arriva bus strike has been suspended from Saturday 2nd July
But they could go back on strike next week again.
For updates on the Strike action please go to Arriva's website:
https://www.arrivabus.co.uk/latest-news/yorkshire-service-disruption-june-2022—updated
This could affect anyone using the 202 and 203 buses that come to Mirfield. The train services are operating as usual next week. Mirfield railway station is a 10-15 minute walk to our building in Mirfield and trains run regularly from Huddersfield.
Find out train times here: https://www.thetrainline.com/
C & K Recovery and Wellbeing College courses
Click below to have a browse at our full collection of courses:
Go Fish!
Wednesday 13th July 5.30-8pm (8 Weeks)
Magdale Dam
Fishing is a fun, social and inclusive activity that has proven health benefits.  This free 8-week angling course gives learners the opportunity to escape the daily demands of life by being in nature, away from the world of technology and the opportunity to learn a new skill.  Participants will discover the techniques and equipment most commonly used in the pursuit of freshwater fish.  Delivered by a social enterprise that specialises in outdoor activities, Eden Forest CIC will introduce you to a sport that may transform your life!   This course is suitable for beginners.
This is open to learners from Kirklees and Calderdale
Wellbeing Toolkit
Tuesday 19th July 10am-12pm (5 weeks – ending on 16th August)
Hope street Resource Centre
This 5-week course is designed to help you recognise the importance of practicing self-care, finding balance in your life and discovering your own personal wellness tools to help you live life well.  During the course we will look at positive and negative thoughts and their impact.  We will discuss simple tools and strategies to help you deal with the highs and lows of life. Throughout the course you will develop a personal wellbeing toolkit, by the end of the course you will be armed with your own unique wellness activities and tools.
Wellbeing Toolkit – Hope Street
Kayaking Taster Session
Wednesday 4th August 10.45am-13.30pm – (1 week)
Our partners Blackdog Outdoors are running Kayaking Taster Sessions on the Calder & Hebble Navigation Canal.
During the taster session you will be introduced to Kayaking, and you will learn some basic paddling skills from a fully qualified instructor. You will then take a leisurely paddle down the canal, with the rest of the group and the instructors. This stretch of the canal is beautiful, passing through open countryside and parts of our industrial heritage, with regular sightings of moor hens, swans, geese, and other wildlife. These sessions are a great opportunity to try something new, see some interesting sights and have some fun!
Suitable for all fitness levels and abilities.
Kayaking Taster Sessions – Calderdale
Textiles for Wellbeing
Wednesday 29th June 9.30am-12pm (4 weeks) 
Kirklees Recovery and Wellbeing College – Mirfield
This will be a relaxed course, exploring a range of textiles, techniques and projects, aiming to lift your mood and bring out your creativity.
We will be using textiles to create items for display, to gift or to use.  Themes may include: embroidery, fabric printing, layering, weaving, rag rugging and felting. The course will offer a practical introduction to a range of textiles processes and techniques, with an opportunity to learn and develop skills, personalise projects and produce something unique, in a friendly environment.
This course is being run by our partners at WEA, so you also need to complete the WEA enrolment form
Please click below for full details:
Textiles for Wellbeing – face to face
Overcoming Anxiety
Thursday 7th July 2-4pm (1 week) online
Do you want to gain an understanding of anxiety? Then this workshop, delivered in partnership with Spirit in Mind by Pastoral and Spiritual Care's Nirmala, may be for you. It will explore:-
• The vicious cycle of anxiety
• How anxiety impacts on life
• How anxiety can be managed
This is a great opportunity to explore anxiety with others who are experiencing the same thing and will also look at the additional anxieties faced due to the Covid-19 pandemic.
Lifting your spirits: Enhancing inner strength & wellbeing
Thursday 14th July 2-4pm (3 weeks) Online
The course, provides you with the opportunity to explore, experience and develop 7 spiritual tools (meditation, visualisation, appreciation, listening, play, creativity, and reflection) to inner strength and wellbeing, in a safe and relaxed setting by a trained and experienced tutor. You will be able to learn how to access inner resources that can sustain you through difficult and challenging times.
This course, delivered by Pastoral and Spiritual Care's Nirmala – a good friend of our college and well respected facilitator.
Managing OCD
Tuesday 12th July 12.30-2.30pm (1 week) online
This learning seminar will help you develop your knowledge and awareness of OCD, how OCD affects you and most importantly what you can do to manage it. The session will introduce proven, self-help techniques to teach you the skills to manage your own symptoms and become your own therapist. Delivered by our partners in Kirklees IAPT (psychological therapies) service, this learning seminar will be facilitated by two friendly psychological wellbeing practitioners.
This course is open to anyone from Kirklees and Calderdale.
Covid restrictions have changed again and been relaxed
If you attend a face to face course inside a building:
You will no longer need to wear a mask but as as always the choice is yours!
We will ask you some questions about contact with others and whether you have any symptoms
Please bring your own refreshments and drinks
We always give a warm welcome and are looking forward to seeing you in person!
If you are new to the College please enrol here
To book a place on a course or to find out more:
email ckrecovery.wellbeing@swyt.nhs.uk  or contact us on 07717867911
Other initiatives from local organisations:
Men's Talk
Men's Talk, CLEAR's creative advocacy project for men, is now recruiting for a new theatre/performance project. Men's Talk aims to reduce stigma around men's mental health and encourage men to talk.
The project will begin with a series of taster workshops beginning Tuesday 12th July , followed by a consultation process, the creation of a new script, rehearsals and performances.
The project is open to any man who identifies with the project aims. No experience is needed  – and the only commitment is to come to a taster session….
For more info or to book a place
contact Stuart Hawkes email Stuart Hawkes stuart.hawkes@commlinks.co.uk or call  07391 868752
Richmond Fellowship Zoom Workshops
These workshops are open to everyone aged 18 or over who lives in Kirklees and experiences mental health issues, problems or concerns.
STRESS MANAGEMENT
This 2 week workshop starts on the 18th July between 1-3pm and will examine all aspects of how Stress can affect us and how it has a negative impact on your mental wellbeing, looking at methods and new ways of thinking that can drastically reduce stress levels in our daily lives.
ASSERTIVENESS AND COMMUNICATION
These 2 workshops that start on the 7th July 1-3pm will explore all aspects of improving Assertiveness skills, maintaining them and developing better communication skills.
VOLUNTEER TRAINING TASTER WORKSHOP
This new 2 week workshop starting on the 21st July between
1-3pm will explore all the basic necessary skills and information that you will need if you are considering the exciting and rewarding world of volunteering.
MOOD AND FOOD
This new two week workshop that starts on the 15th August 1-3pm will show how food can affect our mental wellbeing in a positive and negative way and general tips on what to eat to improve your mental health.
CONFIDENCE TO WORK
This extremely popular 6 week workshop starts on the 18th August and explores all aspects of getting into employment after being out of work for any length of time due to poor mental or physical health.
For more info or to book a place please contact:
Karl Jackson-Lander on 07909 993203 or email: Karl.Jackson-Lander@richmondfellowship.org.uk
Join us on Facebook and Instagram:
C & K Recovery & Wellbeing College | Facebook
https://www.instagram.com/ckrecoveryandwellbeingcollege
Stay safe and reach out
The Recovery & Wellbeing College Team
ckrecovery.wellbeing@swyt.nhs.uk
 07717867911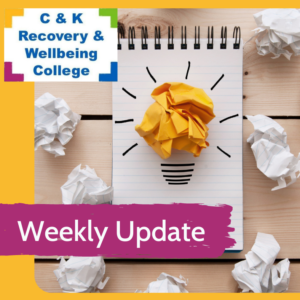 Welcome to the weekly update. We still have spaces for a number of courses. Recommended to you is Lifting Your Spirits. With some excellent feedback from our learners. This course...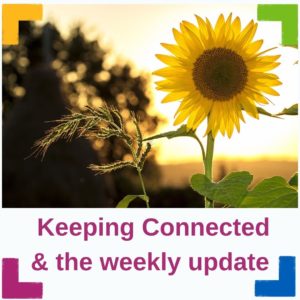 Welcome to Keeping Connected and the weekly update.  Kayaking, knitting, learning how to manage anxiety to name a few amazing courses on offer for FREE! To support you to stay...