Keeping Connected and the weekly update
Welcome to Keeping Connected and the weekly update.  Kayaking, knitting, learning how to manage anxiety to name a few amazing courses on offer for FREE! To support you to stay well and be well! Read below to find out more. Don't forget to click the link below to read about how you can enjoy the summer with news, views and poetry from our learners and volunteers.
Please check before you travel!
We have a double whammy of public transport strikes at the moment
Rail strikes have been announced for Tuesday 21st, Thursday 23rd and Saturday 25th June 2022. During those days there will be significantly fewer trains running. There will also be a reduced service across the network on Wednesday 22nd, Friday 24th and Sunday 26th June.
Arriva bus strike is ongoing!
You may be aware that Arriva buses will not be running for an indefinite period due to industrial action.
Arriva will not be operating bus services across Calderdale and Kirklees, during this industrial action
All Arriva pre-paid tickets will be accepted on First Bus & Transdev buses
For the duration of the industrial action journey planning in the Yorkshire region on the Arriva website and Arriva UK Bus App will be disabled
For updates on the Strike action please go to Arriva's website:
https://www.arrivabus.co.uk/latest-news/yorkshire-service-disruption-june-2022—updated
This will affect anyone using the 202 and 203 buses that come to Mirfield. The train services are operating as usual. Mirfield railway station is a 10-15 minute walk to our building in Mirfield and trains run regularly from Huddersfield.
Please check before travelling if the service you are using is Arriva to get to various venues we are running courses.
Find out train times here: https://www.thetrainline.com/
Covid restrictions have changed again and been relaxed
If you attend a face to face course inside a building:
You will no longer need to wear a mask but as as always the choice is yours!
We will ask you some questions about contact with others and whether you have any symptoms
Please bring your own refreshments and drinks
We always give a warm welcome and are looking forward to seeing you in person!
C & K Recovery and Wellbeing College courses
Click below to have a browse at our full collection of courses:
BRAND NEW…
Go Fish!
Wednesday 13th July 5.30-8pm (8 Weeks)
Magdale Dam
Fishing is a fun, social and inclusive activity that has proven health benefits.  This free 8-week angling course gives learners the opportunity to escape the daily demands of life by being in nature, away from the world of technology and the opportunity to learn a new skill.  Participants will discover the techniques and equipment most commonly used in the pursuit of freshwater fish.  Delivered by a social enterprise that specialises in outdoor activities, Eden Forest CIC will introduce you to a sport that may transform your life!   This course is suitable for beginners.
This is open to learners from Kirklees and Calderdale
Wellbeing Toolkit
Tuesday 19th July 10am-12pm (5 weeks – ending on 16th August)
Hope street Resource Centre
This 5-week course is designed to help you recognise the importance of practicing self-care, finding balance in your life and discovering your own personal wellness tools to help you live life well.  During the course we will look at positive and negative thoughts and their impact.  We will discuss simple tools and strategies to help you deal with the highs and lows of life. Throughout the course you will develop a personal wellbeing toolkit, by the end of the course you will be armed with your own unique wellness activities and tools.
Wellbeing Toolkit – Hope Street
Kayaking Taster Session
Wednesday 13th July 10.45am-13.30pm – (1 week)
Wednesday 4th August 10.45am-13.30pm – (1 week)
Our partners Blackdog Outdoors are running Kayaking Taster Sessions on the Calder & Hebble Navigation Canal.
During the taster session you will be introduced to Kayaking, and you will learn some basic paddling skills from a fully qualified instructor. You will then take a leisurely paddle down the canal, with the rest of the group and the instructors. This stretch of the canal is beautiful, passing through open countryside and parts of our industrial heritage, with regular sightings of moor hens, swans, geese, and other wildlife. These sessions are a great opportunity to try something new, see some interesting sights and have some fun!
Suitable for all fitness levels and abilities.
Kayaking Taster Sessions – Calderdale
Textiles for Wellbeing
Wednesday 29th June 9.30am-12pm (4 weeks) 
Kirklees Recovery and Wellbeing College – Mirfield
This will be a relaxed course, exploring a range of textiles, techniques and projects, aiming to lift your mood and bring out your creativity.
We will be using textiles to create items for display, to gift or to use.  Themes may include: embroidery, fabric printing, layering, weaving, rag rugging and felting. The course will offer a practical introduction to a range of textiles processes and techniques, with an opportunity to learn and develop skills, personalise projects and produce something unique, in a friendly environment.
This course is being run by our partners at WEA, so you also need to complete the WEA enrolment form
Please click below for full details:
Textiles for Wellbeing – face to face
Eat Well for Less
Wednesday 29th June 2-4pm (1 week)
Would you like to know more about cooking healthy, tasty food on a budget? If so then this workshop is for you! With the squeeze on all our budgets at the moment, this workshop will provide helpful tips on how to save money on food while also eating healthily and getting the nutrition you need. Delivered by our partners at Kirklees Success Centre.
If you enjoy this taster, we are hoping to offer a longer Eat Well for Less course later in the year if there is enough interest.
Eat Well for Less – Face to face
Overcoming Anxiety
Thursday 7th July 2-4pm (1 week) online
Do you want to gain an understanding of anxiety? Then this workshop, delivered in partnership with Spirit in Mind by Pastoral and Spiritual Care's Nirmala, may be for you. It will explore:-
• The vicious cycle of anxiety
• How anxiety impacts on life
• How anxiety can be managed
This is a great opportunity to explore anxiety with others who are experiencing the same thing and will also look at the additional anxieties faced due to the Covid-19 pandemic.
Knitting for Wellbeing Taster
Wednesday 13th July 1-3pm (1 week)
Kirklees Recovery and Wellbeing College – Mirfield
Did you know that knitting can reduce depression and anxiety, boost feelings of wellbeing and help you to cope with pain?!  These are just a few of the many benefits so why not come along, have some creative fun and learn the basics of knitting on this beginners workshop?
In this practical, one-off taster session we will be learning how to cast on and cast off, as well as learning the basic knit and purl stitches. Join us and meet others who are also starting their knitting journey!
Delivered by our partners at Kirklees Success Centre. Yarn and knitting needles will be provided.
If there's enough interest, we are hoping to offer a longer knitting course later in the year, allowing you to develop your skills!
Knitting for Wellbeing Taster – Face to face
Lifting your spirits: Enhancing inner strength & wellbeing
Thursday 14th July 2-4pm (3 weeks) Online
The course, provides you with the opportunity to explore, experience and develop 7 spiritual tools (meditation, visualisation, appreciation, listening, play, creativity, and reflection) to inner strength and wellbeing, in a safe and relaxed setting by a trained and experienced tutor. You will be able to learn how to access inner resources that can sustain you through difficult and challenging times.
This course, delivered by Pastoral and Spiritual Care's Nirmala – a good friend of our college and well respected facilitator.
Autism Awareness
Tuesday 12th July 11am-1pm (1 week) at Kirklees Recover College Mirfield
This one-off workshop will provide an introduction to Autism.  The course will promote an understanding of the characteristics of Autism and the various ways that it may affect an individual.  It will explore myths surrounding this and what to do if you suspect Autism in yourself or someone else.  It will provide an overview of the strategies that may help those with Autism or those supporting them.  You will also receive information on local and national support networks and where to access further help.
Autism Awareness – in person Kirklees RWC
Managing OCD
Tuesday 12th July 12.30-2.30pm (1 week) online
This learning seminar will help you develop your knowledge and awareness of OCD, how OCD affects you and most importantly what you can do to manage it. The session will introduce proven, self-help techniques to teach you the skills to manage your own symptoms and become your own therapist. Delivered by our partners in Kirklees IAPT (psychological therapies) service, this learning seminar will be facilitated by two friendly psychological wellbeing practitioners.
This course is open to anyone from Kirklees and Calderdale.
We are doing our best!
You may be interested to know that we now have 835 plus learners enrolled with us! We put on 106 courses and 322 of sessions delivered from Jan 2021- Jan 2022. Not bad for a small team! And a team that has got a little bit smaller!
Please bear with us over the next few weeks. We are currently suffering from a shortage of admin workers! We'll do our best to respond to any booking requests and enquires but we may be a little delayed in doing so!
You can help us with our admin by:
attending courses you have booked onto
getting in touch if you can't attend a session or course in advance
emailing us where possible ckrecovery.wellbeing@swyt.nhs.uk
calling our main mobile number only on:  07717867911
This saves us sending emails or trying to contact you. It also helps us give a place to others on a waiting list and makes planning easier. If you can help us we can help you even more!
If you are new to the College please enrol here
To book a place on a course or to find out more please contact us or visit:
www.calderdalekirkleesrc.nhs.uk/courses/
Other initiatives from local organisations:
Have you been affected by suicide?
Suicide Bereavement Service Covering West Yorkshire
Compassionate support for anyone bereaved or affected by suicide. Delivered by staff who understand it because they've been there.
Get in touch to see how our support could help you.
Leeds Mind
0113 305 5800
sbs@leedsmind.org.uk
The Dewsbury: Your Health in Mind Project in June
This month we're holding a Carers Week Celebration Event on Tuesday 7th June from 10am – 3pm in Crow Nest Park and some brand-new Waheeda's Wellbeing sessions will be running there too, starting on Thursday 9th June. Or why not come to our Café Connections at Cloggs Coffee shop in Dewsbury on Tuesday afternoons from 2-3pm and then stay for a gentle stroll around Dewsbury with Cloggers Walking Group from 3-4pm. And if you're usually busy in the daytime, then come and join us in the evening on Monday 13th June for some Qigong in the Park.
Find lots more FREE outdoor sessions, wellbeing workshops and creative classes here: 
Join us on Facebook and Instagram:
C & K Recovery & Wellbeing College | Facebook
https://www.instagram.com/ckrecoveryandwellbeingcollege
Stay safe, reach out and enjoy the sun!
The Recovery & Wellbeing College Team
ckrecovery.wellbeing@swyt.nhs.uk
 07717867911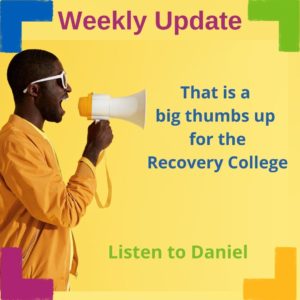 Welcome to the weekly update. Our college is more than the buildings we occupy. The college is made of people like you, like us, who support each other, learning together...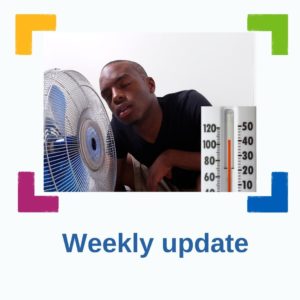 Welcome to the weekly update where you can find out about new courses taking place in person at Hope Street in Halifax and at our base in Mirfield. We are...