Weekly update
Welcome to the weekly update.  Thank you for using our college we always love to see you! It is always heartening to see our courses fill up and at the moment they are filling fast so don't dilly dally and book onto our fantastic courses.
We now have over 900 learners enrolled! AMAZING!
"The college has helped me to find my own coping mechanisms, which I think is very important. Staff and volunteers are both welcoming and knowledgeable, and once through the door the kettle is on and the welcome is genuine."
Jayne, Friend of the RWC
In case you missed it here is Keeping Connected:
Don't miss out on the following courses:
BE QUICK….
Knitting for wellbeing taster
Kirklees Recover & Wellbeing College hub – Mirfield
Thursday 20th October 10am-12pm
Did you know that knitting can reduce depression and anxiety, boost feelings of wellbeing and help you to cope with pain?  These are just a few of the many benefits of this wonderful activity, so come along and have some creative fun and learn the basics of knitting on this beginners workshop.
During this practical, one-off taster session delivered by our partners at Kirklees Success Centre we will learn how to cast on and off, as well as learning the basic knit and purl stitches. Join us and meet others who are also starting their knitting journey!  Yarn and knitting needles will be provided.
Knitting for Wellbeing Taster face to face Mirfield
Introduction to Mindfulness
Thursday 20th October 2-4pm online (1 week)
Mindfulness is a skill which we can all learn. It involves an ability to become aware of what is happening in the present, moment by moment, without worrying and judging, rather than being on automatic pilot. Being mindful provides us with opportunity to respond to difficult events and situations in new ways.
This introductory workshop is delivered in partnership with Spirit in Mind and facilitated Nirmala from our Pastoral and Spiritual Care team. It looks at the origins of mindfulness, core practices and its potential to be used to combat stress. Together, we will explore the various tools and techniques used to gain a better understanding of mindfulness and its purpose.
An introduction to Mindfulness – Online
Money Talks
Thursday 3rd November 1-3pm online (1 week)
Does the big shop always leave you a bit short at the end of the month? Do you need to buy the kids new uniform and can't quite figure out where you can make some savings to be able to afford it? Perhaps you've had some unexpected bills you haven't budgeted for and don't know how you'll pay for it or who to turn to for support?
With the help of Flipside's quick and easy app, we will help you to create your own money plan from scratch and help you steer your way through the intimidating world that is dealing with big companies who we have to pay money to for their services. You'll hear stories of people who've been where you are, how they sought the right support and find tips on what could work for you and help you manage your money and give you some financial freedom.
This free one-off workshop, run in partnership with Wakefield Recovery College, will look at ways to prioritise and make smart choices, with the option to go on and learn even more with Flipside's support.
Join us, along with our fictitious friend Abi, for this fun and relaxed session.
Money Talks – MST online 3rd November 1-3pm
Quiet the Mind: The Practice of Meditation
Tuesday 1st November 1.30-3pm
Hope Street Halifax
Are you always on the go; continually having somewhere to be and something to do?  Do you struggle to switch off and give your brain a well-deserved break?  If so, this is the course for you!  Through four friendly and informative weekly sessions, we will learn some of the history and facts about meditation, the benefits of meditation, and how this practice can help us live in the present moment and experience comfort and stillness.  We will be learning how to meditate using a variety of techniques, and as a group we will discuss "The Power of Now".
Quiet The Mind: The Practice of Meditation – face to face
You can see a full list of our upcoming courses here:
If you are already enrolled with the College, then please get in touch via email or telephone to book on your chosen course or workshop.  There is no need to enrol again.
Email: ckrecovery.wellbeing@swyt.nhs.uk
Telephone: 07717867911
If you are new to the College please enrol here
Please remember to stay at home if you are unwell or have symptoms of covid!
We will be able to help you remain safe if you are worried about getting infected by covid when you attend.
Courses on offer from Richmond fellowship
Online – Zoom Workshops
ASSERTIVENESS AND COMMUNICATION
These 2 workshops that start on the 17th October, 1pm-3pm will explore all aspects of improving Assertiveness skills, maintaining them and developing better communication skills.
WAYS TO WELLBEING
This 2-week Workshop starts on the 14th November, 1pm-3pm and will cover all aspects of improving and maintaining mental health through practical means that people can use on a daily basis.
For more information, to see our online calendar:
Our Workshops – Kirklees Employment Service (rfkirkleesemployment.org.uk)
The Media Centre 7 Northumberland Street Huddersfield West Yorkshire HD1 1RL
01484 434866
For information, support and advice on how to beat the cost of living go to your local council pages here:
Money and Wellbeing in Calderdale | Calderdale Council
Cost of living | Kirklees Council
Join us on Facebook and Instagram here:
We hope you have a great weekend.
The Recovery & Wellbeing College Team
ckrecovery.wellbeing@swyt.nhs.uk
 07717867911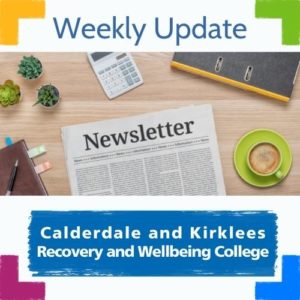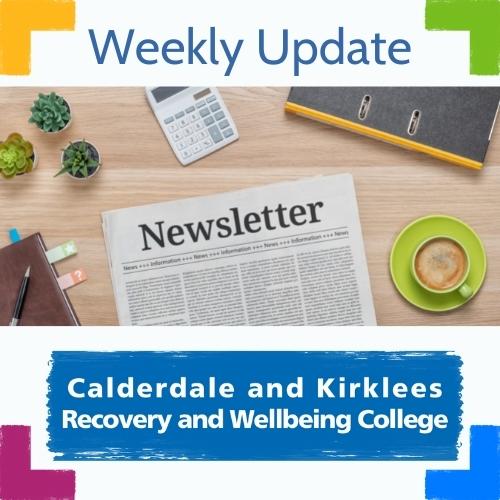 Welcome to the weekly update. Thanks to everyone who has booked onto our courses. We are pleased that you are making the best use of our college. After a slow...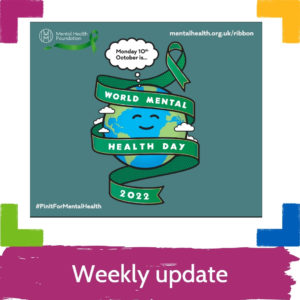 Welcome to the weekly update. Please have a look at available courses below. On Monday 10th October it is World Mental Health Day. Mental health impacts everyone, our families, workplaces...